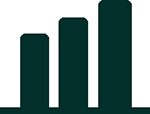 One Click
Cloud Reporting
Tell Your Story
You do a lot with your labor dollars, so start telling your story.
Whether you're presenting your budget in the board room or explaining your variances to the Controller, taskTracker has got you covered.
We created an application that won't add work to your busy schedule, but will give you a detailed view of how labor dollars are being spent. With on-demand reporting you'll alway have the answers.